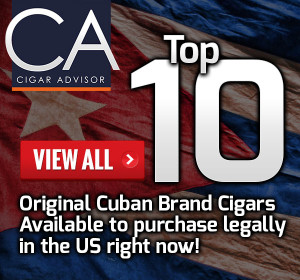 EASTON, PA–(Marketwired – May 12, 2015) – Cigar Advisor, the nation's premiere online cigar magazine, proudly serves cigar enthusiasts with a uniquely down-to-earth perspective on the enjoyment of premium cigars. Well-known and highly regarded for providing acclaimed educational cigar content and behind-the-scenes industry articles from some of the business's top names, the Cigar Advisor editors deliver an array of content that speaks directly to those who enjoy the cigar lifestyle. Many smokers today are asking, "Are Cuban cigars really better?" In response, Cigar Advisor has released their list of Top Original Cuban Cigar Brands.
"Do you know what's interesting about that question? It's that there are plenty of great cigars with Cuban brand names and a rich Cuban heritage — and they're available legally, right here in America, as we speak." That's according to John Pullo, Cigar Advisor's Managing Editor — and it's a question he says both he and his colleagues are asked regularly. With renewed interest in travel to Cuba and the prospect of lifting the Cuban Embargo, many Americans are eager for the chance to buy Cuban cigars. "There's a mystique to them that, if these are cigars from Cuba, then they must be the best," he added. But Pullo believes that idea to be unfounded. "The cigars we've listed are blended to taste like the legendary Cuban cigars that share the same name — the big difference is, these 10 smokes are certainly more affordable, and are available to buy legally right now."
While some famous cigar brands continued production after Fidel Castro's Communist Revolution, including Montecristo, Romeo y Julieta and Punch — the Advisors are quick to note that they're not the same as the US-legal premium smokes. "Cohiba cigars.Cuban Cohibas, that is.were once Castro's favorite," said Gary Korb, Executive Editor for Cigar Advisor. "They're still made in Havana. But the Cohibas we smoke are made in the Dominican Republic, along with H. Upmann and Montecristo cigars, plus dozens more brands that were founded in Cuba." The difference is due to history, according to Gary: Several popular cigar manufacturers and factory owners fled Cuba after Castro's Communist revolution; and with nothing but some smuggled tobacco seeds in their pockets, continued growing tobacco and producing premium cigars under the same name in other Caribbean countries. "These exiles were allowed to take nothing," he says. "Castro kept it all; more like, stole it, really."
The editors' ten picks for top cigars of Cuban heritage appear on the latest Cigar Advisor list, cigars that Pullo says are all top-notch smokes in their own right. "They've been consistently hand-made with methods and crops the likes of which many Cuban manufacturers haven't been able to compete with. I think this list might be the thing that finally puts this 'are Cubans really better' question to bed."
See the list — and view the video of Cigar Advisor's Top 10 Cuban Brand Cigars — Here.
About Cigar Advisor Magazine
Cigar Advisor magazine is a digital publication created by, and for, real cigar enthusiasts. The Editors strive every day to accomplish three goals: welcome novices to the hobby of cigar smoking with advice and open arms; share their tobacco-rich lifestyle with good friends and veteran smokers alike, and profess their love for a good smoke with cigar enthusiasts of all stripes, from around the world. Cigar smokers are a passionate bunch — and whether it's food, drink, sports or cigars they're fanatical about, Cigar Advisor shares those passions with a razor-sharp edge. Find that passion and more on display at CigarAdvisor.com.