"Casino Gold HRS cigars are the ultimate compliment to a high-risk, high-reward, always-on-the-go lifestyle." – Royal Gold Cigars sales brochure
 Thanks to Alex Goldman, president of Royal Gold Cigars, I have been on a bit of a Royal Gold kick as of late. I can't get enough of these high-quality sticks. Today's choice is the Casino Gold H.R.S. (High Roller Selection) – the inaugural cigar that set the company in motion during the summer of 2013 and my third review of the company's four offerings.
 The Casino Gold H.R.S. is blended by Nestor Plasencia in Danli, Honduras featuring a three- country blend – Nicaragua, Honduras, Africa. When she arrived at my doorstep my initial opinion was, "damn girl you are a F.I.N.E.". She looked like a 'Pin-up' gal right off the walls of a 1950s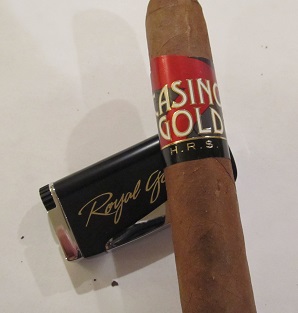 backroom poker game in Little Italy, NYC.
 She was tall, thick, and firm yet soft in all the right places – mmmmmmm 'How you doin'? She was decked out in a sexy Jalapa-grown wrapper that was medium brown in color with a slight sheen of exotic oils. She was accessorized perfectly with a couple of bands that evoked images of a 1950s Las Vegas cocktail waitress. A suggestive look of 'glam meets modern woman' – perfect. Her inner offerings were made up of a Cameroon binder that concealed carefully grown Ometempe, Esteli and Jamastran long-fillers. Her pre-lighted aroma of earth, spice and floral was intoxicating and irresistible.
 I cordially greeted her with a smooth clip of the cap and a gentle massage of her foot with my warm triple-flamed lightation device. The first few puffs were charming – fruity, sweet, a little cocoa and just the right amount of spice – her way of telling me that she was looking to play. But, to my surprise, she started to disrobe prematurely. The wrapper started to scrunch up a bit during the first inch of the burn but she quickly covered up and behaved throughout the rest of our evening together with absolutely no effect on the rest of the burn.
 Her flavors stayed the same with each and every kiss throughout the first third of our tryst. But as we continued to keep each other company in my cigar cave her taste began to change a little bit as she began to present slightly complex flavors. Her kiss was starting to feel a little creamier and she started to mellow out a bit. She lost most of her spice. What a tease, I like a randy gal. However, her rich earth tones started to really come to the forefront and she started to mix in a little cedar and leather into her profile. The sweet floral notes remained, but faint.  
 I was getting really excited and amped up about the final third of our date. Things
were really starting to heat up and the night cap is always the most exciting and memorable part of the night. And, without fail, I was correct. I must have been exciting her just as much as she was intriguing me because her spicy persona re-emerged and once again, tickled my taste buds. My lustful Latina was back. Specks of black pepper and exotic spices danced in my mouth before leaving an amorous shroud of desire on my palate with a long memorable finish. This heartthrob continued to be sweet and creamy with notes of fruit, cedar, earth and cocoa. The most intriguing characteristic that really struck me was how much flavor she emitted while maintaining such mild strength. She was in the low-medium to mild side as far as strength, but a genuine powerhouse as far as flavors go – perfectly balanced. Talk about your perfect mistress – gentle yet frisky – what else can a man ask for?
 I found Casino Gold H.R.S. to be a very pleasant and enjoyable medium-bodied smoke with slightly complex flavors. The cigar had a flawless draw and an even burn after its initial hiccup. It held a long, 'salt-and-pepper' colored ash and emitted generous plumes of thick smoke.  
The next time I see this temptress hanging around a casino floor, backroom parlor or cigar lounge I am definitely scooping her up so she can accompany me during my next crap shoot or Texas Hold 'em Tournament.
 I think the vitola that I smoked (King 7 x 54) was the perfect size for this blend. The flavors were amazing and Nestor Plasencia and Royal Gold Cigars deserve enormous accolades for blending this flavor bomb throwback that graciously transplants smokers to time and place where everyone is treated like a High Roller.
 I paired this cigar with a Founders All Day IPA – Session Ale to create one of the best pairings that I have experienced to date.
 Specs:
 Royal Gold Cigars
Blended by Nestor Plasencia
Wrapper: Nicaragua – Jalapa – Habano Rosado
Binder: African Cameroon
Fillers: Nicaragua – Ometempe and Esteli
             Honduran – Jamastran
Strength: Medium (leaning toward mild)
Price: $6 – $7 USD