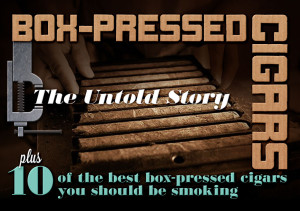 EASTON, PA–(Marketwired – May 08, 2015) – Cigar Advisor, the nation's premier online cigar magazine, proudly serves cigar enthusiasts with a uniquely down-to-earth perspective on the enjoyment of premium cigars. Well-known and highly regarded for providing acclaimed educational cigar content and behind-the-scenes industry articles from some of the business's top names, the Cigar Advisor editors deliver an array of content that speaks directly to those who enjoy the cigar lifestyle. Many new smokers today are asking, "What's the deal with box-pressed cigars." In response, Cigar Advisor has released "Box-pressed Cigars – The Untold Story," including their list of "The 10 best box-pressed cigars you should be smoking.
"Cigar smokers can be very finicky when it comes to their size and shape preference," writes CigarAdvisor.com executive editor, Gary Korb. "Take box-pressed cigars, for example. Their rectangular shape takes some getting used to, but they can actually be quite comfortable." In describing how these four-sided cigars are made, Mr. Korb addresses whether box-pressed cigars are more flavorful than the more commonly smoked round-shaped cigars (called parejos), and includes a list of 10 "humidor-worthy" box-pressed cigars cigar smokers should try.
"Like most things having to do with handmade cigars, box-pressed cigars have their origins in Cuba," says Mr. Korb. "A lot of new cigar smokers are curious about how they taste and how they're made. Most experienced cigar smokers have tried at least one box-pressed cigar, while some won't smoke anything else."
In his article, Mr. Korb refers to a cigar company rep who once told him that box-pressed cigars smoke longer and have a more consistent flavor.
"Some believe that due to the box pressing procedure, most of the space taken up by air is filled-in with tobacco, so you get much more flavor from the blend," added Mr. Korb. He also points out that the reason why so many Rocky Patel cigars are box-pressed is because Rocky has a personal preference for them.
Regarding his list of 10 box-pressed cigars, Korb says, "No list would be complete without one of the Padrón Anniversary selections, so they're a given. For my list, I also wanted to make cigar smokers aware of the wide variety of good box-pressed cigars that are available."
Some of the cigars in the list include the Perdomo2 LE 2008, Punch Rare Corojo, Jericho Hill, New World by A.J. Fernandez, and the JAVA Latte. Famous Smoke Shop has also made-up abox-pressed sampler of Mr. Korb's list, which he named "40 Sides of Brown."
"I've smoked all of the cigars in the list, so the sampler not only gives cigar smokers a nice choice of sticks to test-drive, they're also more affordable this way."
To learn more about box-pressed cigars and see the list, click here.
About Famous Smoke Shop
Famous Smoke Shop is the nation's #1 discount retailer of premium cigars online, offering one of the largest selections of handmade cigars, machine-made cigars, cigar humidors and accessories. Famous offers the web's lowest prices on a wide selection of cigar brands including Acid, Davidoff, Macanudo, Romeo y Julieta, Ashton, Padron, Oliva and Perdomo cigars, and many more. Famous also offers a complimentary monthly catalog and has been awarded an Elite ranking for their customer service by third-party benchmarking firm STELLAService. The Elite rating is the company's highest rank, and is achieved by only 4% of rated online merchants.